VFX Supervision
---
I have supervised visual effects acquisition for television commercials, feature films, short films, and special venues.
Stereoscopic 3D
---
Live action stereographer, 2d-3d conversion, native VFX rendering, live action plate reconstruction and fixes. DCP creation and deep knowledge of stereo projection.
Directing
---
I have directed several award winning short films and projects. I can work with actors, tell a story and create compelling visuals.
Education
---
I have trained hundreds of students though the DAVE school, FXphd, and in person.  As a Nuke Certified Trainer, you can also learn NUKE from a Foundry endorsed instructor.
Stereoscopic 3D
Making human factors our top priority. Live Action / Cgi / 2d-3d Conversion
I understand stereoscopic 3D in a unique way: I emphasize story telling and human factors. I am confident that my innovations will improve work flows and save money. My approach will give your production an extra edge, streamline your production and improve your quality. As a consultant and stereoscopic supervisor I have been involved in managing and overseeing all stages of stereoscopic production, live-action, CG Animation, Stop Motion or combinations of all the above.
3D Equipment Expirence
The Foundry's Nuke and Ocula

DCP creation, Open Cinema Tools

Mocha beta development

NewTek's Lightwave 3D beta development

Eyeon's Digital Fusion beta development

Zalman Trimon, iZ3d, Samsung, ViewSonic and nVida


Barco Digital Projectors

Electrosonic HD projection servers

RealD, Dolby 3D, ExpanD, and IMAX 3D

Design and operation of camera 3D rigs.

Design of 3D playback solutions, Dual Projection.

Doremi playback servers and CineAsset DCP


SONY 4K projectors and servers.
Inventions
SyncCode™ is a special visual way of marking two strips of film for frame accurate synchronization for 3D stereoscopic projection.

Geo3Distort™ – I have created several proprietary methods to map out compound vertical, horizontal key stoning, and barrel distortion caused by offset projection and inconsistencies of dual projection lens.

PookaVision™ – I have invented several special alignment grids that are used for projection alignment and depth analysis of a venue.
DepthGrade™ – I have created a "gizmo" for Nuke compositing software that facilitates the ease of placement of 3D layers in positive and negative parallax.

Teaching
2010 to present DAVE School, Orlando Florida. VFX & Compositing Instructor

FXphd Professor 2011-14 – NUKE, Compositing, Stereoscopic, and Ocula Training

FXphd Professor April 2010 term "Nuke 2D to 3D Stereoscopic Conversions"

VFX Supervisors Bootcamp, Los Angeles CA. Link June 25-27, 2010

FXphd Professor Oct 2009 term "Nuke and Stereoscopic"

Digital Fusion Training, IBC Digital 2005

Nuke Training for Lighters, ReelFX creative Studios 2004

Digital Media Center, Portland Oregon, Lightwave 3D, 1997
Awards
12/20/10 "Instructor of the Year"

8/12/10 "Best Animated Feature" Star Wars: The Solo Adventures
11/20/02 "First place, best new product" awarded at IAAPA 2002

6/23/99 Accrediting Commission of Career Schools and Colleges of Technologies Graduate of the year for 1999.

Skills
Strong understanding and use of stereoscopic human factors

Creative ways to use 3D as a story telling device.

Creative direction, organized, detail oriented.

Live action 2nd unit director.

Digital cinematographer.

Timelapse and optical flow techniques.

On Set supervision and collaborator
Education
Nuke training workshop at Digital Domain, 2004

Directing a Feature Film workshop, AFI Washington D.C. 1994

Acting and Improv workshop, Community Theater Reston, VA1993

Associates Degree in Specialized Technology, Art Institute of Pittsburgh 1992
"After seeing "Corkscrew Hill" and "Radio City Music Hall Christmas Spectacular," Lenny Lipton said these films "show a complete mastery of the medium. I have never seen anything better.""

− -Lenny Lipton, CTO RealD Cinema
""Daniel helped us produce some extremely complex stereoscopic animated projects for digital projection and large format film delivery, and the results of his efforts were excellent.""

− -Jeff Kleiser, Synthespian Studios
""Dan's technical expertise and creative talent helped to push our Spy Kids III effects over the top.""

− -Vicki Weimer, Producer CafeFX
""Daniel Smith was the one who fully understood my spreadsheets and formulas that predicted how the stereoscopic effects would look from each area in the theater seating area. He grasped at once how these quantitative methods could be used to make the stereoscopic experience comfortable yet exciting, by knowing precisely how to avoid causing visual discomfort and eyestrain. I look forward to working with Dan again on a future project!.""

− -John Merritt, The Merritt Group
""You're all's Staff Battle sequence is the movie stand-out. Thanks for all your hard work." "

− -Robert Rodriguez on Spy Kids 3D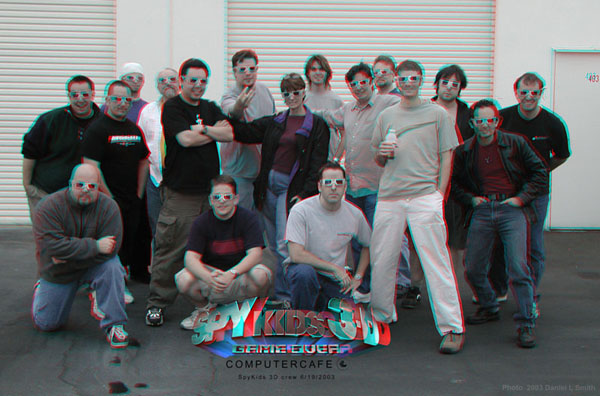 Deep knowledge of Stereoscopic conversion techniques.
Trained hundreds of artists who have converted 2D motion pictures into stereo 3D such as "The Avengers," "Titanic," "Jurassic Park," and "Pacific Rim"
Innovative uses of the 3D fourth wall and script analysis for the best use of 3Ds' emotional impact.
Stereoscopic human factors. Understanding the psychology of 3D space and the way our brain interprets the space and sees depth perception. The influence of inter-axial distances on the perception of size and mass.
Use of Parallax, color, size, and shape to create dynamic 3D imagery
Creation of screen planes, floating windows, stereo camera rigs, minimizing ghosting, and maximizing depth.
Deep understanding of when to use converging cameras versus parallel and how to mix the two.
3D depth chart analysis. Ability to determine down to the pixel level the amount of perceived depth given the exact seat in the audience, and how to translate that to a VFX artist's monitor.
Theater space and screen size knowledge for projection setup, geometric distortions, and shot influence for the amount of parallax and placement of effects in the visual image.
Needs and requirements for different stereo outputs, IMAX, RealD, Dolby 3D, BluRay 3D and Dual Projection.